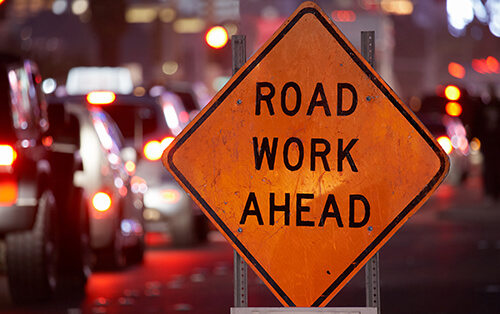 Event
2019 Annual Work Zone Safety Conference
April 5, 2019

3:30 am–10:30 am
The New Jersey Work Zone Safety Conference promotes work zone safety awareness in local and state roadways for a multi-disciplinary audience of construction, engineering, public safety, and maintenance and operations personnel.
This year's event will feature a presentation on OSHA compliance for work zone safety inspections; an in-depth review of personal protective equipment compliant and noncompliant work zone safety vests, including the most recent revisions by the ANSI; and a segment on data-driven decision making for smarter work zones. The keynote presentation will be delivered by a retired Pennsylvania State Police Trooper who survived a horrific struck-by crash. In his presentation, he will highlight the dangers that all road workers are exposed to on a daily basis. The conference will conclude with an afternoon presentation that examines the use of drones in work zones and how this technology can increase safety when engaged in road work projects.
As part of the program, the New Jersey Work Zone Safety Excellence Awards will be presented to recognize inspiring efforts of individuals, companies and roadway agencies that have demonstrated effective temporary traffic control in planned work zones on New Jersey roadways.
Additional Information

Dave Maruca, Project Manager | 848-445-2963 | dem200@soe.rutgers.edu
Barbara Morgan, Program Coordinator | 848-445-3112 | barbara.morgan@soe.rutgers.edu

CAIT
Rutgers, The State University of New Jersey
100 Brett Road • Piscataway, NJ 08854-8058

Agenda

7:30 a.m.

Registration and Light Refreshments

8:30 a.m.

Opening Remarks

David Maruca, Program Development Administrator, Rutgers CAIT
Robert Clark, Division Administrator, Federal Highway Administration, NJ Division
Richard Mendelson, Acting Regional Administrator, United States Department of Labor-Occupational Safety and Health Administration (OSHA)
Diane Gutierrez-Scaccetti, Commissioner, New Jersey Department of Transportation

9:00 a.m.

Understanding an OSHA Work Zone Inspection

Brian Crain, Compliance Health & Safety Officer, USDOL-OSHA

9:30 a.m.

High Visibility Apparel in Work Zones

Ted Green, P.E., Engineering Project Manager, Rutgers CAIT
Robert Weissman, CSP, Safety Manager, New Jersey Turnpike Authority

10:15 a.m.

Break/Visit Exhibits

10:45 a.m.

Keynote Address:  Forged in Stars and Stripes

Sgt. Robert Bemis, Retired Pennsylvania State Police Trooper

11:30 a.m.

Making Work Zones Smarter-Data Driven Decision Making

Dr. Thomas Brennan, Ph.D., P.E., Associate Professor, Department of Civil Engineering, The College of New Jersey

12:15 a.m.

Lunch/Visit Exhibits

1:15 p.m.

Presentation of 2019 Work Zone Safety Excellence Awards

1:30 p.m.

Drones in Work Zones

Ronald Leach, Principle, Leach Strategic Partners, Retired New Jersey State Police Trooper

2:30 p.m.

Adjourn

Fee

Free

Credits

3 PDH, DLGS CPWM: 3.5 Technical Contact Hours Applied for

Registration

Sponsors / Partners

The New Jersey Work Zone Safety Partnership (NJWZSP) is an ad hoc committee with the primary goal of promoting work zone safety education and awareness to reduce the number of workers being killed in work zones. The NJWZSP includes representatives from:

Rutgers' CAIT

Federal Highway Administration, New Jersey Division

U.S. Department of Labor Occupational Safety and Health Administration

New Jersey Asphalt Pavement Association

New Jersey Association of County Engineers

New Jersey Department of Transportation

New Jersey Division of Highway Traffic Safety

New Jersey State Police

New Jersey Turnpike Authority

New Jersey Office of Public Employee's Occupational Safety and Health

New Jersey Police Traffic Officers Association

Associated Construction Contractors of New Jersey

Construction Industry Advancement Program of New Jersey

Utility and Transportation Contractors' Association

Laborers Locals #172 and #472 SET

South Jersey Transportation Authority

The Port Authority of New York and New Jersey

Utility providers

For more info on work zone safety see: http://www.workzonesafety.org
Withdrawal Policy: In the event that you are unable to attend a program for any reason, please note you must submit your withdrawal in writing at least 72 hours in advance of the start of a program to receive a refund. If am emailed or faxed withdrawal is not received by our department, the full program fee will be charged and is nonrefundable. A phone call asking for withdrawal is not sufficient.
Privacy Policy: The personal information we collect when you register for a program will not be disclosed to any outside parties. We use personal information for purposes of administering our business activities and providing customer service. We may also use the information we collect to notify you about important services and offerings we think you will find valuable. We are not responsible for the practices employed by websites linked to or from our website or the information or content contained therein.