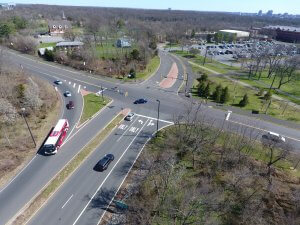 On August 30th from 1 – 2 pm EST, UTC partners at Rowan University will discuss their research Evaluating the Mobility Impacts of American Dream Complex and Developing Innovative Intersection Safety Tools, as part of a presentation during the CAIT Seminar Series. Learn more and register here.
UTC Partners at Rowan University conducted a feasibility study during the past year analyzing potential mobility and safety concerns of high-density transportation networks in New Jersey, specifically the area surrounding the new American Dream Mall in East Rutherford. While the project was impacted by lessening traffic volume due to the COVID-19 pandemic, the team was still able to collect valuable mobility data on the surrounding area while also developing an innovative AI tool to assess intersection safety.
In this free seminar, researchers will discuss their findings on the mobility impacts of the American Dream Mall, review the new intersection safety tool they have developed, and discuss important next steps in developing effective and innovative solutions to alleviate traffic congestion and motor vehicle crashes around this complex and at intersections in general.
Learn more and register here.