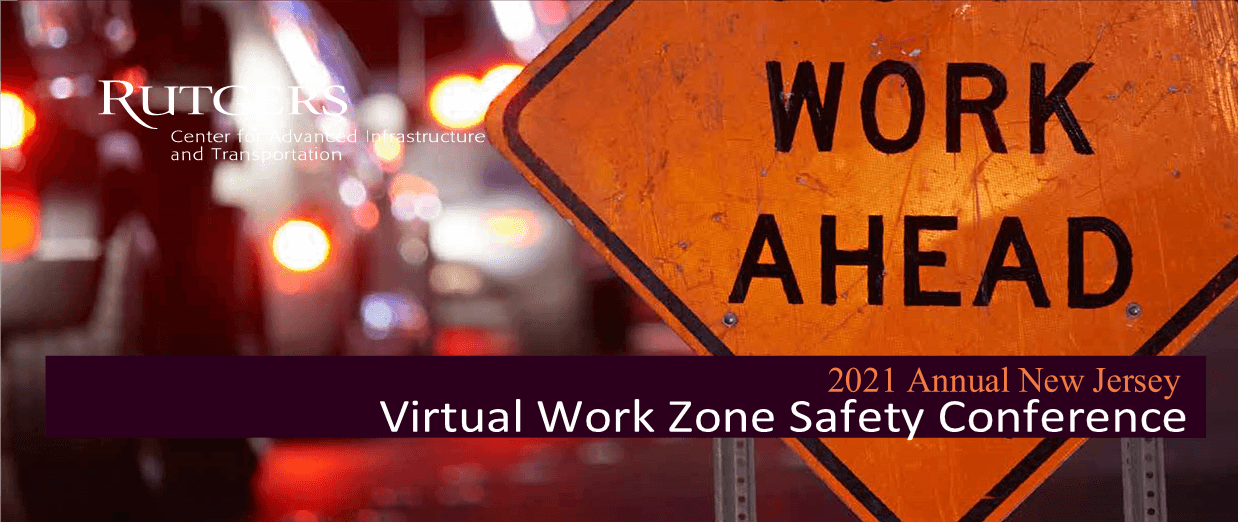 Event
2021 Work Zone Safety Conference
April 21, 2021

8:30 am–1:00 pm
The New Jersey Work Zone Safety Conference promotes work zone safety awareness on local and state roadways for a multi-disciplinary audience of construction, engineering, public safety, maintenance and operations personnel.
This year's online event will commence with a presentation focused on shadow vehicles and truck mounted attenuators in work zones. The keynote presentation will be delivered by Bradley Sant, Professional Engineer with the American Road & Transportation Builders Association who will be speaking about the dangers of internal work zones which account for approximately 50% of all fatalities. The conference will conclude with a presentation on attenuators and the  role of police in work zones.
As part of the program, the New Jersey Work Zone Safety Excellence Awards will be presented to recognize inspiring efforts of individuals, companies and roadway agencies that have demonstrated effective temporary traffic control in planned work zones on New Jersey roadways.
Hosted by the New Jersey Local Technical Assistance Program (NJ LTAP) at Rutgers Center for Advanced Infrastructure and Transportation (CAIT) and the New Jersey Work Zone Safety Partnership (NJWZSP). The NJWZSP is an ad hoc committee with the primary goal of promoting work zone safety education and awareness to reduce the number of workers and road users being injured or killed in work zones. The NJWZSP includes representatives from both the public and private sectors involved with work zone activities.
Agenda:
8:30 a.m.          Opening Remarks
David Maruca, Program Development Administrator – Rutgers CAIT
Eric Heitmann, Director
New Jersey Division of Highway Traffic Safety
Richard Mendelson, Regional Administrator
United States Department of Labor Occupational Safety and Health Administration
Robert Clark, Division Administrator
Federal Highway Administration, NJ Division
Diane Gutierrez-Scaccetti, Commissioner
New Jersey Department of Transportation
9:00 a.m.           "Basics of Shadow Vehicles and Truck Mounted Attenuators"
                               Theodore Green, P.E, Engineering Project Manager, Rutgers CAIT
9:45 a.m.            Break
10:00 a.m.         Keynote Address: "Internal Traffic Control for Work Zones"
                               Bradley Sant, P.E., Senior Vice President of Safety & Education, ARTBA
11:00 a.m.          Presentation of 2021 Work Zone Safety Excellence Awards
11:15 a.m.           Break
11:30 a.m.          Panel Discussion:  "The importance of Preconstruction Meetings"
Moderator:         Craig Cooper, Traffic Control Coordinator, Work Zone Contractors
Panel:                   Chris Beach, Training & Safety Manager, Atlas Flasher
Gary Holsten, Sergeant, South Brunswick Police Department
Derek Franz, P.E., Project Manager, Michael Baker International, Inc.
Martin Livingston, Traffic Engineer, Monmouth County
Chad O'Connor, SMS, CHST, Corporate Safety Manager, IEW Construction Group Inc.
12:15 p.m.           "Role of Police in Work Zones"
                                Frank Pumphrey, Lieutenant, Cedar Grove Police Department
1:00 p.m.             Adjourn
| | |
| --- | --- |
| Credits | 2.5 PDHs, NJ CPWM: 2.5 technical CEUs have been applied for |
| Registration | |
Withdrawal Policy: In the event that you are unable to attend a program for any reason, please note you must submit your withdrawal in writing at least 72 hours in advance of the start of a program to receive a refund. If am emailed or faxed withdrawal is not received by our department, the full program fee will be charged and is nonrefundable. A phone call asking for withdrawal is not sufficient.
Privacy Policy: The personal information we collect when you register for a program will not be disclosed to any outside parties. We use personal information for purposes of administering our business activities and providing customer service. We may also use the information we collect to notify you about important services and offerings we think you will find valuable. We are not responsible for the practices employed by websites linked to or from our website or the information or content contained therein.