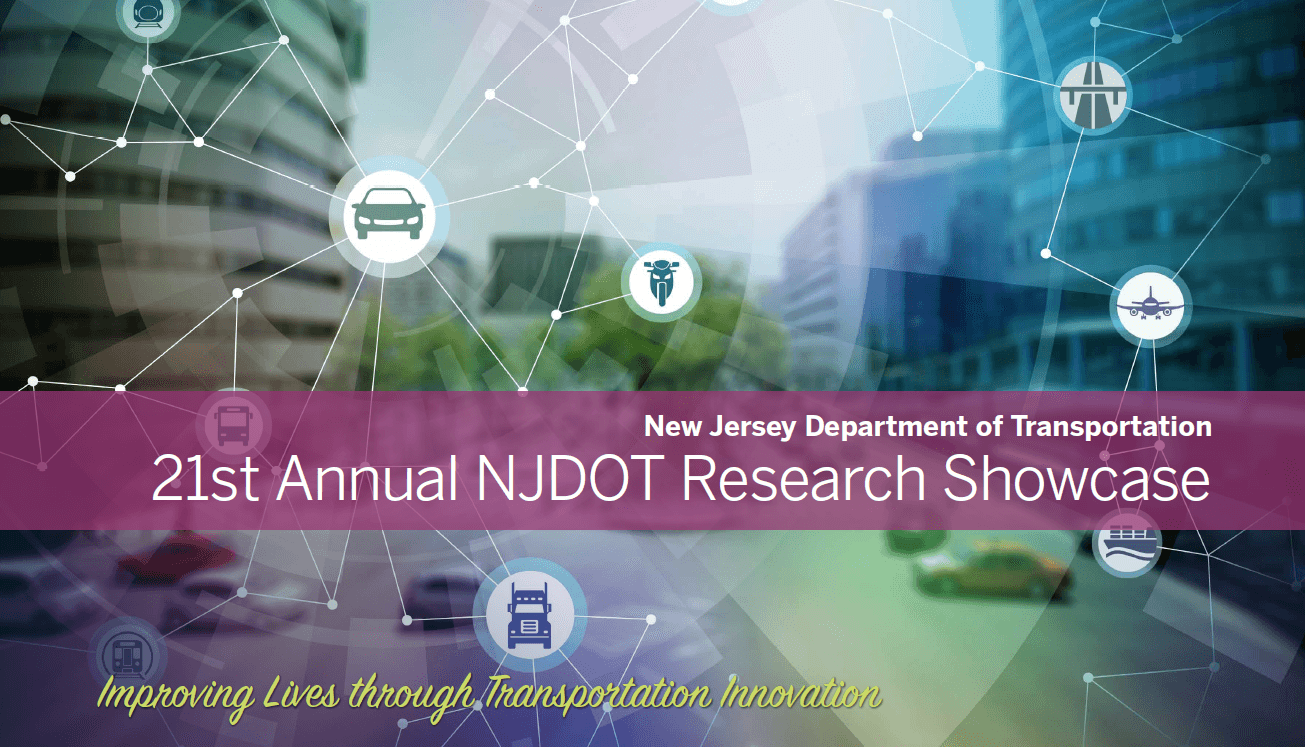 Event
21st Annual NJDOT Research Showcase
October 23, 2019

8:30 am–3:00 pm
8:30 a.m. Sign-in and Networking
Atrium
9:00 a.m. Opening Remarks
Michael Russo, NJDOT, Assistant Commissioner Planning, Multimodal, and Grant Administration, New Jersey Department of Transportation
9:05 a.m. Welcome and Introductory Remarks
Auditorium
Diane Gutierrez-Scaccetti, Commissioner, New Jersey Department of Transportation
9:15 a.m. Opening Remarks
Valeriya Remezova, Assistant Division Administrator New Jersey Division Office
9:30 a.m. Keynote Address
David C. Woessner, Executive Vice President, Corporate Development and Regulatory Affairs, Local Motors

10:05 a.m. Research Poster Exhibits and Break
10:30 a.m. Panel Making the Connection: How can innovations in connectivity improve safety, equity, and mobility?

Thomas M. Brennan, PhD., Associate Professor, Department of Civil Engineering- The College of New Jersey
Salvatore Cowan, Director of Traffic Operations, Transportation Systems Management Unit- New Jersey Department of Transportation
Dan McClung, Vice President of Engineering Solutions, Danlaw, Inc.
Carolyn L. Nelson, P.E., Civil Engineer, Project Development/Environmental Specialist – USDOT Federal Highway Administration
David C. Woessner, Executive Vice President, Corporate Development and Regulatory Affairs, Local Motors
11:40 a.m. Presentation of 2019 Awards
2019 Outstanding University Student in Transportation Research Award
2019 NJDOT Research Implementation Award
2019 Best Poster Award
2019 NJDOT Build-a-Better Mousetrap Award
12:00 p.m. Buffet Lunch and Research Poster Exhibits
1:00 p.m. Concurrent Breakout Sessions on Safety, Mobility and Equity, Innovation, and Poster Session
Innovation Breakout Session #1
1:00 p.m. – 1:30 p.m. – A New Protocol for Evaluating the Effectiveness of  Coatings Used to Reduce Corrosion of Steel Structures, P.N. Balaguru, Rutgers University
1:45 p.m. – 2:15 p.m. – Bridge Structural Health Monitoring Using Nonlinear Vibro-Acoustic Method, Alexander Sutin, Stevens Institute
2:30 p.m. – 3:00 p.m. – Risk-based Decision-making Model in Highway Bridge Foundation/Substructure Reuse, Ehssan Hoomaan, City College of New York
Innovation Breakout Session #2 
1:00 p.m. – 1:30 p.m. – Design and Performance Evaluation of Fiber-reinforced Hot Mix Asphalt, Daniel Offenbacker, Rowan University
1:45 p.m. – 2:15 p.m. – Forensic Evaluation of Pavement Failure Using GPR and UAV Technology, Vahid Ganji, Michael Baker International
2:30 p.m. – 3:00 p.m. –Freeze-thaw Durability of the Bond Between Cementitious Rapid Repair Materials and Concrete Substrate, Noah Thibideaux, NJIT
Equity and Mobility Breakout Session
1:00 p.m. – 1:30 p.m. – How NJDOT addresses Equity in Transportation, Brian ten Siethoff, Cambridge Systematics
1:45 p.m. – 2:15 p.m. – Minimizing Cost of Highway Maintenance Considering the Impact of Vehicle Emissions:  An Artificial Bee Colony Approach, Celina Semaan, NJIT
2:30 p.m. – 3:00 p.m. –A Smart Application for Predicting Network-wide Congestion Hot Spots Under Adverse Weather Conditions, Abdullah Shabarek, NJIT
Safety Breakout Session
1:00 p.m. – 1:30 p.m. – Local Road Safety Audit Program, Aimee Jefferson, NJTPA
1:45 p.m. – 2:15 p.m. – Miami Pedestrian Bridge Collapse: A Computational Forensic Analysis, Ran Cao, City College of New York
2:30 p.m. – 3:00 p.m. – Roadway Safety – A Distinct Discipline, Priscilla Tobias, Arora and Associates
Poster Mini Breakout Session
TBD
3:00 p.m. Adjourn
11th Annual NJDOT Research Implementation Award
The Outstanding University Student in Transportation Award Nomination Form
| | |
| --- | --- |
| Fee | Registration is complimentary. This program is organized by the NJDOT Bureau of Research in partnership with the New Jersey Local Technical Assistance Program (NJ LTAP); funding is provided by the Federal Highway Administration. |
| Credits | 3 PDH |
| Registration | |
Withdrawal Policy: In the event that you are unable to attend a program for any reason, please note you must submit your withdrawal in writing at least 72 hours in advance of the start of a program to receive a refund. If am emailed or faxed withdrawal is not received by our department, the full program fee will be charged and is nonrefundable. A phone call asking for withdrawal is not sufficient.
Privacy Policy: The personal information we collect when you register for a program will not be disclosed to any outside parties. We use personal information for purposes of administering our business activities and providing customer service. We may also use the information we collect to notify you about important services and offerings we think you will find valuable. We are not responsible for the practices employed by websites linked to or from our website or the information or content contained therein.