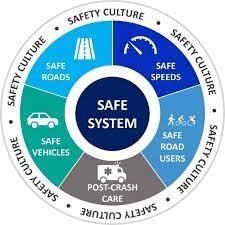 NJLTAP – A Safe System Based Framework for Assessing Intersections (Webinar)
May 17, 2022

12:00 pm–1:30 pm
Under a Safe System approach, reaching the zero goal requires managing the circumstances of crashes such that the kinetic energy forces imposed on the human body do not result in death or serious injury. At an intersection, this is accomplished by influencing conflict points, speed, and crash angles, and considering exposure and complexity. Intersection projects are opportunities to explore how to apply Safe System principles to the project development planning and design decisions in support of reaching the zero goal, as well as a performance-based approach to safety. The Federal Highway Administration (FHWA) sponsored an effort to develop a Safe System for Intersections (SSI) framework and methodology, which represents a first step toward the development of objective and implementable analyses that reflect key Safe System concepts.
The Safe System assessment of an intersection can serve as an additional metric to inform alternatives analysis and identify an optimal solution for an intersection. The SSI method uses data that are typically available early in a project development lifecycle. In this webinar, you will learn about the SSI framework and explore the potential to apply the methodology within the decision-making process for intersection projects.
Presenters

Mark Doctor, PE, Senior Safety & Design Engineer – Federal Highway Administration Resource Center

Mark provides technical assistance and training to advance the application of innovative and performance-based safety and design practices on a national level. Mark began his career with the FHWA in 1988 and has served in his current position with the FHWA Resource Center Safety and Design Team since 2005 where he provides technical services in the areas of geometric design, intersection safety, innovative intersections, freeway interchange design, and the Safe System approach. Mark received a BS degree in civil engineering from Clemson University and an MS in transportation engineering from the University of Florida. He is a registered Professional Engineer in the State of Georgia.

Fee

This workshop is sponsored by the Federal Highway Administration and New Jersey Department of Transportation through the New Jersey Local Technical Assistance Program.

Credits

1 PDH; 1 NJ CPWM Technical Credit Applied For

Registration
Withdrawal Policy: In the event that you are unable to attend a program for any reason, please note you must submit your withdrawal in writing at least 72 hours in advance of the start of a program to receive a refund. If am emailed or faxed withdrawal is not received by our department, the full program fee will be charged and is nonrefundable. A phone call asking for withdrawal is not sufficient.
Privacy Policy: The personal information we collect when you register for a program will not be disclosed to any outside parties. We use personal information for purposes of administering our business activities and providing customer service. We may also use the information we collect to notify you about important services and offerings we think you will find valuable. We are not responsible for the practices employed by websites linked to or from our website or the information or content contained therein.