From innovative research to receiving awards, read about some of the recent highlights and successes from researchers at the Rutgers Center for Advanced Infrastructure and Transportation during the summer months.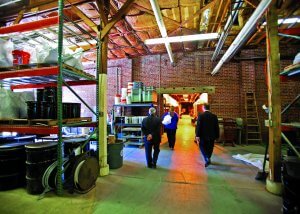 Innovative Research
Dr. Thomas Bennert, affiliated researcher at CAIT and director of the Rutgers Asphalt Pavement Lab, gave a presentation during a New Jersey Department of Transportation (NJDOT) Tech Talk on his work leading the Pavement Support Program (PSP) for NJDOT's Pavement & Drainage Management and Technology Unit.
The PSP helps develop and implement a variety of innovative materials and technologies to improve pavement performance across New Jersey through its various initiatives. From innovative materials to workforce development initiatives, Dr. Bennert discussed the objectives and long-term goals of the PSP as well as some recent accomplishments.
Read the full story about his presentation here.
Awards & Recognition
At its President's Awards Reception this summer the Commercial Real Estate Development Association, NAIOP New Jersey, honored eight organizations including Rutgers University and inducted a CAIT-affiliated researcher into the NAIOP NJ Hall of Fame.
Dr. James W. Hughes, CAIT-affiliated researcher and dean emeritus at Rutgers University's Edward J. Bloustein School of Planning and Public Policy, was inducted into the Hall of fame and honored at the ceremony. Throughout the COVID-19 pandemic Dr. Hughes has been tracking economic recovery in the region through his series of Fast Track Research Notes. This has included analyzing demographic shifts in the state, tracking how the pandemic added to a growing trend of young people who are just starting families moving away from cities and into the suburbs and places with more space, and what the impacts of these changes might mean for transportation in the area and the regional economy.
Read more about the ceremony here, and learn about work from Dr. Hughes tracking economic recovery from COVID-19 here.
In the News
Last month, U.S. Secretary of Commerce Gina Raimondo and Congressman Frank Pallone visited Rutgers and the School of Engineering for a tour of its labs and facilities, and to showcase federal investment in research.
Included in the tour was CAIT-affiliated researcher Dr. Jie Gong and his Robotics Lab. Dr. Gong demonstrated  some of his new technology including the robot dog Spot, whose autonomous capabilities have use in a range of areas such as search and rescue, intelligent energy audits for commercial buildings, travel assistance for disabled use, and more. Spot was acquired recently as part of a collaborative effort between the Rutgers University School of Engineering and its Strategic Equipment funds, the Department of Civil and Environmental Engineering, and Rutgers CAIT.
Read more about the visit here.