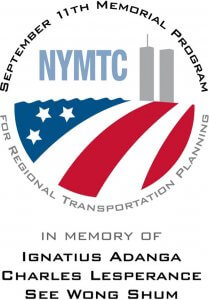 The New York Metropolitan Transportation Council (NYMTC) established the September 11th Memorial Program for Regional Transportation Planning to honor the memory of Ignatius Adanga, Charles Lesperance, and See Wong Shum, the three employees it lost during the attack on the World Trade Center. The program was established to educate and motivate people interested in transportation technology and planning and to encourage innovations in planning activities throughout the NYMTC region; this year's program is administered by the Center for Advanced Infrastructure and Transportation at Rutgers.
This program will foster the academic and professional development of students by providing them with opportunities to participate in innovative research or planning projects. The students will conduct research for twelve months in a professional assignment outside the classroom.
The student will conduct research under the guidance of a mentor from NYMTC or a NYMTC member agency. The research will challenge students to develop creative solutions to difficult problems, providing a benefit to the region while enhancing their educational experiences.
Under the full 12-month program, the student will commit the dedicated time outside the classroom to conduct research and submit the required research outputs. For this involvement, a graduate student will receive financial support up to $35,000 over 12 months.
Research Topics
---
The 2022-2023 research topics are below:
If a student will be completing their graduate studies before the full year is over, arrangements can be made for a shorter program. In this case, fellowship commitments and stipends will be pro-rated. A total of $35,000 per year per student will be available for the period covered by this scope for a combination of monthly stipend/tuition reimbursement. Awards will be available for up to four students during the 2022-2023 academic year. The selected student awardees will be given the opportunity to select the specific breakdown of this funding (tuition reimbursement/ stipend) based on their own individual financial needs.
Together with a full class schedule, this program constitutes a full-time commitment. It is advised that students may not have any employment obligations or receive any graduate research assistantships while participating in this program. Over the course of the year, students will also be invited to participate in other activities aimed at promoting their development as transportation professionals, including a potential mentorship program, and opportunities to attend research and professional conferences. At the end of the year, students will make a public presentation on the results of their projects, during September at the close of their fellowship year.
Learn More & Apply Now
This program is open to full-time graduate-level students at a college/university in New York or New Jersey. International Students must have a valid F-1 Visa to participate in this fellowship. Prospective students not yet enrolled in graduate school may apply to the September 11th Memorial Program concurrently with their application to any of these schools.
Students from all academic disciplines are encouraged to apply if their studies relate in some way to transportation planning. Fields that are especially relevant include Transportation Planning, Transportation Engineering, Civil Engineering, Landscape Architecture, Geography, Urban and Regional Planning, Environmental Studies, Public Policy, Public Administration, Public Health, Community Engagement, Statistics, and Economics but applicants need not be limited to these fields.
Fellowship Application Information
Applications are due by September 12, 2022.
The following supporting materials are required for the 2022-2023 September 11th Memorial Program for Regional Transportation Planning Fellowship:
1) Completed Cover Page with Certifications Form from a University Research Grant Office.
2) An essay, describing how you visualize your future role in the New York transportation planning process (500-1000 words).
3) Undergraduate and graduate transcripts. Unofficial transcripts are acceptable on a provisional basis; electronic versions can be uploaded directly, or hard copies can be scanned and uploaded. You may be requested to submit official transcripts later for confirmation.
4) Faculty Advisor Commitment Letter.
The above documents must be submitted via the below Google Forms application link:
September 11th Memorial Program (2022-2023 Academic Year) Application Form
5) Two letters of recommendation from professors and/or employers. Recommendation letters must be uploaded directly online by the recommenders using the following link:
Upload Recommendations Here (Applicants are to share this link with their recommenders.)