The FHWA–NACE LRSP Pilot Team is working with 42 counties to develop LRSPs. The pilot provides a blended training and technical assistance program to guide the counties and their State partners (including the State DOT and the LTAP) through the six steps for developing a LRSP (illustrated at right).
One of the five participating counties in Indiana is Montgomery County, a rural agricultural county in the western part of the State with an area of about 505 square miles and 845 total miles of county roads. The county did not have an engineer in residence from 2001 up to early 2018. Enter the new Montgomery County Engineer James Peck, P.E. "Shortly after I came onboard, I received a crash data summary and a heat map from Purdue University, which is part of the LTAP program. It became very apparent where the problems are, so I had already been thinking about the safety of our roads. When this opportunity to participate in the pilot came up, I jumped at it," said Peck, explaining that he had learned about the pilot from other county engineers in the State who were active in NACE. Peck participated in the webinar and a December workshop that kicked off the effort in 2018, and since then has been conducting data analysis and site reviewing locations with severe crashes. Roadway departure crashes are a particular challenge for the county, accounting for 57 percent of all crashes.
"What we're doing is taking bits and pieces out of what we're hearing in the pilot and through the technical assistance and applying it to our county. Some counties have substantial right of way where they can do a lot of improvements. We're trying to see what we can do within our existing right of way," he added, noting that roads in the county typically have only 5.5 to 6 feet for drainage, shoulders, and signing. "Obviously we need more delineation on the edge and center line, and we need to reduce speeds," he added, noting that these issues will be addressed in the plan.
"The LTAP has been a huge asset to our process, providing us a lot of crash information, crash tree diagrams, and other information that has really helped us break down the data. I can take this information and go drive the roads and see the issues."
— James Peck, P.E., Montgomery County Engineer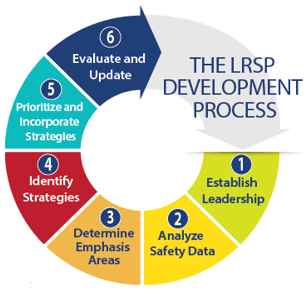 Montgomery County's participation in the LRSP pilot has dovetailed into an already-underway effort by Peck to renew the county's thoroughfare plan, which had been generated by the State several years prior and was due for an update. Thorough¬fare plans are typically concerned with the connectivity of county roads. They identify corridors for improvement to help promote commerce and coordinate improvements with surrounding county road networks. As a result of efforts to develop an updated version, and with the data provided by Purdue, Peck already had some ideas about areas and issues that would need be addressed within the county system, so the comprehensive crash data he received from the Indiana LTAP as part of the LRSP pilot was not surprising.
"The LTAP has been a huge asset to our process, providing us a lot of crash information, crash tree diagrams, and other information that has really helped us break down the data. I can take this information and go drive the roads and see the issues," he said, pointing to a roadway that he reviewed that had an unusually high number of roadway departure crashes.
"I drove the road, and I thought, 'This road is in really good condition.' I couldn't figure out why there were so many crashes." Taking a deeper dive into the data provided through the LTAP and looking at the time of day and other local area characteristics, he was able to connect the dots. "The crashes were clustered during the period shortly after classes ended at a nearby high school. The kids were getting out of school, driving too fast, and going off the road."
Speed is one of the more common safety challenges on rural roadways, and Montgomery County is no exception. "We will be looking at a county-wide speed ordnance reducing the speeds. In typical counties, if the road isn't posted, it's assumed the speed is 55 mph. If we can post a more realistic speed, that will help increase driver reaction time."
Once the current data analysis phase is complete, Peck noted, the work will shift to establishing a group of stakeholders to participate in creating a LRSP.
"Those stakeholders will likely include our sheriff's office, fire department, emergency medical services, school corporations, [the] highway department, and perhaps more groups," said Montgomery County Commissioner John Frey in a recent op-ed to publicize the effort to county residents. Frey, who has enthusiastically supported the county's involvement with the pilot also noted that "Once chosen, Peck and his team will begin to determine measures to mitigate the problem or problems and seek lowest cost options to implement solutions."
"Our goal is coming up with a good plan that will improve safety and that we can all agree to," Peck added. FHWA intends to continue working with NACE, the National Local Technical Assistance Program Association, and other State and county agencies on the development of LRSPs. The pilot program has proven to be successful for numerous counties across nine states. This effort has informed local staffs about enhancing partnerships and leveraging funding for improving local road safety.
If you are interested in learning more about FHWA/NACE LRSP Pilot, please contact Jerry Roche at jerry.roche@dot.gov or Hillary Isebrands at hillary.isebrands@dot.gov.