Registration is now open for the first ever courses to be held at the International Association of Public Transport's (UITP) newly created North American Regional Training Center, supported by a partnership with NJ TRANSIT and Rutgers Center for Advanced Infrastructure and Transportation (CAIT).
The training courses assemble public transportation professionals from across North America and internationally to share best practices and learn new strategies and tactics on topics ranging from electric buses to fare management, rail operations and public transportation fundamentals.
Courses will be offered in July, September, October and November of this year at Rutgers CAIT in Piscataway, NJ. For more information on this initiative, visit njtransit.com/uitp.
In March of this year, the three organizations announced their partnership to establish UITP's first Regional Training Center in North America on the campus of Rutgers University.
"This is an exciting time for everyone involved in public transportation, not only in New Jersey, but across our country," said New Jersey Department of Transportation Commissioner and NJ TRANSIT Board Chair Diane Gutierrez-Scaccetti. "The training sessions will bring together some of the leading worldwide voices across all facets of our industry. NJ TRANSIT is proud to be a partner in this landmark program."
"NJ TRANSIT marks the beginning of a new era in public transit training in the United States, with the opening of registration for four new courses this year," said NJ TRANSIT President & CEO Kevin S. Corbett. "We're proud to partner with UITP and Rutgers CAIT to establish UITP's first Regional Training Center in North America, providing a unique opportunity to access the expertise and insights of UITP's network of trainers from the top transit agencies around the world."
"UITP is delighted to open registration to all our 2023 North American training, together with our partners NJ TRANSIT and Rutgers CAIT," said UITP Secretary General Mohamed Mezghani. "This range of training has been developed to bring comprehensive topics and insights to a wide audience of professionals working in, or interested in, the public transit sector.  All program information and registrations are easily accessible on the UITP website, with all courses open to participants across the globe."
"Rutgers CAIT is excited to welcome the inaugural cohort of transit professionals to campus this summer as part of the UITP North American Regional Training Center," said CAIT Director Dr. Ali Maher. "From the fundamentals of public transport to managing and maintaining fleets of electric buses, these courses will connect practitioners in North America to an international network of data, best practices, and expertise. Education is a critical first step in building a sustainable transportation system and developing a skilled workforce to address the pressing climate, economic and equity challenges of the 21st century."
The four training programs for 2023 are: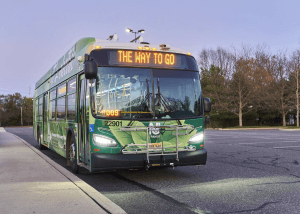 UITP is the only worldwide network dedicated to bringing together all public transportation stakeholders – from all forms of sustainable transportation – to advance the quality of life in our cities for everyone. UITP currently has Regional Training Centers in Europe (France, Germany, and Spain), Asia-Pacific and Eurasia (China and Turkey), South America (Chile), and South Africa, and now in North America in Piscataway, NJ.
The RTCs offer first-class transportation training through the establishment of uniform standards and best practices for all areas of sustainable transportation. Additionally, the training sessions will provide a worldwide network of data and catalogs of programs driving innovation within rail, bus and much more.
NJ TRANSIT will lead the regional partnership by committing to sponsoring four training programs annually, providing guest speakers for programs when possible, and leveraging its experience as a leader in the delivery of public transportation throughout the area.
The Center for Advanced Infrastructure and Transportation (CAIT) at Rutgers will act as a key partner in this endeavor by coordinating with UITP and NJ TRANSIT to provide necessary logistics and administrative support. They will also assist in the marketing of training courses, and by hosting the training sessions.