Recently, the Federal Highway Administration (FHWA) released a 
Primer on Safe System Approach for Pedestrians and Bicyclists
. This comprehensive guide provides an explanation of the Safe System approach and its focus on eliminating fatal and serious injuries by recognizing that humans will make errors and are vulnerable. Agencies can then move forward in creating a roadway environment that helps eliminate crash risks for pedestrians and bicyclists while reducing vehicle speeds.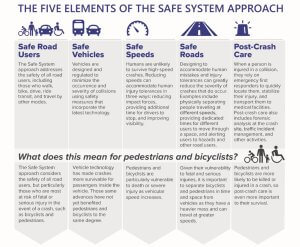 Pedestrians and cyclists are vulnerable users of our roadways, more likely to sustain serious or fatal injuries if involved in a crash. That risk increases with a vehicle's speed. The Safe Systems approach considers all these various elements and takes a holistic approach to reducing serious injury and fatal crashes.
The FHWA primer explains each element, provides information on how an agency can implement a safety culture and offers a strategy to improve safety in their community.
Federal Highway Administration, Office of Safety https://safety.fhwa.dot.gov/