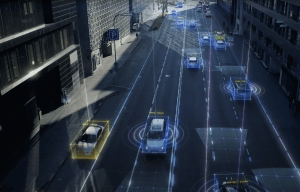 Governor Phil Murphy is committed to establishing an "innovation economy" that will deploy smart technologies to improve the quality of urban life. The Middlesex County – Mobility Living Laboratory is doing this by transforming 12 downtown city acres and the wider Middlesex County into a cutting-edge smart mobility testing ground. The MC-MLL's network of sensors and computing infrastructure will help develop autonomous, connected and energy efficient vehicle systems by collecting and analyzing high fidelity mobility data.
Civil and environmental engineering (CEE) professor and Center for Advanced Infrastructure and Transportation (CAIT) director Dr. Ali Maher and CEE associate professor Dr. Peter Jin are spearheading the MC-MLL's development through collaboration with federal, state and local agencies, and industry partners. CAIT researchers are working to equip the testing ground with high-resolution digital and radar cameras, smart intersections and pavement markings, and other mobility data-gathering and data-exchange technologies that will enable vehicle-to-vehicle, vehicle-to-infrastructure, and other multi-modal communications.
The Department of Civil and Environmental Engineering at Rutgers School of Engineering recently featured the MC-MLL project, smart cities research, and more innovative work happening at Rutgers.
Read the full story and learn more here.