This fall, CAIT hosted multiple guests for tours of its Rutgers Asphalt Pavement Lab and other innovative labs and facilities on campus. From stakeholders at transportation agencies throughout the NJ/NY region to state legislators, CAIT showcased some of the impactful research and technology transfer work happening at our labs right now.
State Legislators Tour Rutgers Asphalt Pavement Lab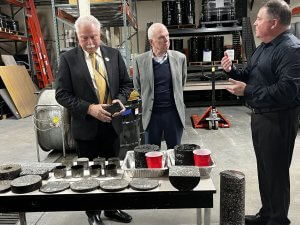 On Wednesday, Nov. 30th, NJ State Senator Patrick Diegnan and Assemblyman Rob Karabinchak toured Rutgers CAIT's state-of-the-art pavement research laboratory. The 14,000-square foot Rutgers Asphalt Pavement Lab (RAPL) is one of the country's largest, most active, and highly respected pavement laboratories.
"We are quite fortunate to have a nationally recognized and award-winning pavement research laboratory in our own backyard," said Diegnan and Karabinchak in a news release. "From roadways to airport runways, the research and work performed at the Rutgers Asphalt Pavement Lab is invaluable. As the country's most densely populated state and among its most traveled, New Jersey immensely benefits from the lab. Researchers here make a profound impact from the local to the federal level as transportation agencies work to build and maintain a national network of more than 4 million miles of roads."
Read more about the tour here.
NJ Transit Explores Rutgers Virtual Reality Lab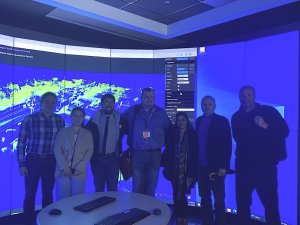 Earlier in November, a team from New Jersey Transit visited CAIT to learn about rail and transportation-resilience research happening at the Center and to tour the Rutgers Virtual Reality Lab.
From developing robotics for infrastructure inspection to improving flood mitigation efforts with data-driven approaches, CAIT director Dr. Ali Maher and Rutgers researchers gave an overview of the Center and our Infrastructure Resilience Program.
Rutgers engineering students led a tour of the Virtual Reality Lab, showcasing its different capabilities centered on collecting and processing large geospatial data sets for flooding and coastal community resilience.
NYC DOT Visits Pavement Lab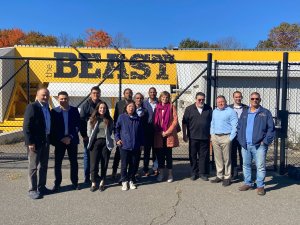 In October, visitors from the New York City Department of Transportation met with CAIT researcher Dr. Tom Bennert for a tour of the Rutgers Asphalt Pavement Laboratory. Dr. Bennert gave presentations on sustainable pavements, increased recycling usage, and other pressing topics before showcasing the unique tools and equipment in the lab.
The Rutgers Asphalt Pavement Lab is one of the few independent, college/university-based asphalt laboratories in the US that is accredited by the AASHTO Re:Source program to test for Aggregates, Asphalt Binder, and Hot Mix Asphalt. Dr. Bennert presented on some of the work his team has been doing in pavement engineering, mix design, materials testing, and data-based maintenance and repair decisions.