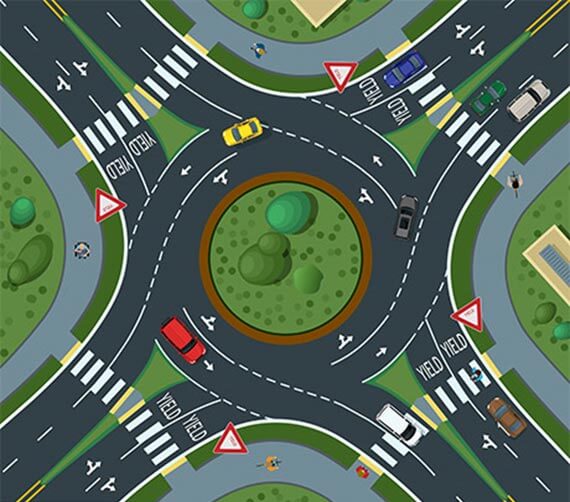 NJLTAP – Roundabouts Workshop (Mercer)
Course Description:
This is a one-day workshop. This class aims to advance the practitioner's knowledge of roundabout basics as well as fundamentals of traffic operations and geometric design. We will share both best and noteworthy practices, as well as the latest research in modern roundabout design. Topics introduced will cover:
Introduction to Modern Roundabouts
Roundabout Types and Contexts
Traffic Operations Fundamentals
Geometric Design Fundamentals
Design Details
Roundabout Design Guidance
Roundabout Education
Attendees are encouraged to bring local case studies of current or potential roundabout projects to be discussed during the workshop.
*NO MEALS ARE PROVIDED. THERE WILL BE A LUNCH BREAK.
Learning Objectives:
Describe why roundabouts are a safe intersection alternative
Understand at least two important aspects of roundabout traffic analysis
Describe the importance of right sizing roundabouts
Learn about multiple roundabouts resources
Intended Audience:
Local and state roadway agencies and consultant engineers, public safety and public works.
Pre-Requisites:
None
Credits:
CPWM 6 Technical Contact Hours Applied For; 6 PDH
Presenters:
Hillary Isebrands, PE, PhD, Senior Safety Engineer – FHWA Resource Center Safety and Design Technical Services Team
Sponsor:
This workshop is sponsored by the Federal Highway Administration and New Jersey Department of Transportation through the New Jersey Local Technical Assistance Program.
Withdrawal Policy: In the event that you are unable to attend a program for any reason, please note you must submit your withdrawal in writing at least 72 hours in advance of the start of a program to receive a refund. If am emailed or faxed withdrawal is not received by our department, the full program fee will be charged and is nonrefundable. A phone call asking for withdrawal is not sufficient.
Privacy Policy: The personal information we collect when you register for a program will not be disclosed to any outside parties. We use personal information for purposes of administering our business activities and providing customer service. We may also use the information we collect to notify you about important services and offerings we think you will find valuable. We are not responsible for the practices employed by websites linked to or from our website or the information or content contained therein.