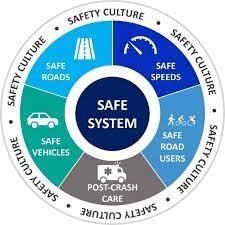 NJLTAP – Advancing Complete Streets and Equity Goals within the Safe System (Webinar)
May 12, 2022

12:00 pm–1:30 pm
Although there is no singular design prescription for a Complete Street, a Complete Street is safe, and feels safe, for everyone using the street. Complete Streets are designed and operated to respond to the needs and context of the community it serves, especially vulnerable road users and historically underserved communities.
In March 2022, the Federal Highway Administration (FHWA) issued a report to Congress detailing the agency's commitment to advance widespread implementation of the Complete Streets design model to help improve safety and accessibility for all users. Within the five elements of the Safe System approach, State and local transportation agencies focus on designing and operating safe roads that protect all road users while providing access and mobility through road designs and safety countermeasures that encourage safe speeds. Complete Streets are an embodiment of the safe roads and safe speeds elements of the Safe System approach. Safety, accessibility, and connectivity are closely linked to transportation equity. Equitable transportation provides access and options for all users regardless of race, gender, age, disability status, or class. Studies indicate that people walking in lower income areas are struck and killed by motor vehicles at much higher rates than those walking in higher-income neighborhoods.
In this webinar, you will learn how to leverage the Safe System approach principles to advance the parallel goals and efforts for building Complete Streets and promote safe, affordable, accessible and multi-modal access to opportunities and services while reducing disparities and adverse community impacts.
Presenters

Mark Doctor, PE, Senior Safety & Design Engineer – Federal Highway Administration Resource Center

Mark provides technical assistance and training to advance the application of innovative and performance-based safety and design practices on a national level. Mark began his career with the FHWA in 1988 and has served in his current position with the FHWA Resource Center Safety and Design Team since 2005 where he provides technical services in the areas of geometric design, intersection safety, innovative intersections, freeway interchange design, and the Safe System approach. Mark received a BS degree in civil engineering from Clemson University and an MS in transportation engineering from the University of Florida. He is a registered Professional Engineer in the State of Georgia.

Fee

This workshop is sponsored by the Federal Highway Administration and New Jersey Department of Transportation through the New Jersey Local Technical Assistance Program.

Credits

1 PDH; 1 NJ CPWM Technical Credit Applied For

Registration
Withdrawal Policy: In the event that you are unable to attend a program for any reason, please note you must submit your withdrawal in writing at least 72 hours in advance of the start of a program to receive a refund. If am emailed or faxed withdrawal is not received by our department, the full program fee will be charged and is nonrefundable. A phone call asking for withdrawal is not sufficient.
Privacy Policy: The personal information we collect when you register for a program will not be disclosed to any outside parties. We use personal information for purposes of administering our business activities and providing customer service. We may also use the information we collect to notify you about important services and offerings we think you will find valuable. We are not responsible for the practices employed by websites linked to or from our website or the information or content contained therein.