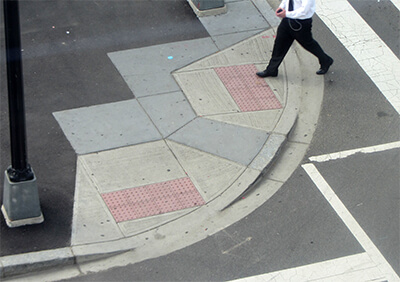 NJLTAP – Design of ADA Curb Ramps and Pedestrian Access Routes (Webinar)
March 29

–

March 31

1:00 pm–3:00 pm
Course Description:
This is an asynchronous workshop with portions prerecorded as well as live online content. Link to the prerequisite videos will be included with you confirmation email. The online portion of the workshop will be hosted via Zoom.
This workshop is designed to assist local governments with an understanding of the basic minimum requirements for Americans with Disabilities Act (ADA) and Section 504 of the Rehabilitation Act to ensure our roadways' pedestrian network is accessible to all pedestrians. These requirements apply to all state and local governments regardless of their size. The workshop will include a brief overview of the Americans with Disabilities Act (ADA) and the civil rights responsibilities of the public roadway owners, Section 504 of the Rehabilitation Act, Federal Highway Administration (FHWA) requirements, NJDOT requirements, and AASHTO "Green Book" requirements for the pedestrian networks along our roads.
The following topics are covered in the pre-recorded videos to be viewed prior to the start of the live online portion of the workshop:
Federal Laws and Regulations and local government responsibilities
Landmark court cases
Standards, policies and  guidelines, and proposed guidelines
ADA Self-Evaluations and Transition Plans
The following topics will be covered in the live online portion of the workshop:
Sidewalks
Street Crossings
Curb Ramps
Pedestrians signals for the blind, individuals with low vison, and pedestrians that are deaf or hard of hearing
On street Parking
Work Zones
Learning Objectives:
Identify applicable laws, regulations, guidelines and standards pertaining to accessibility
Identify some of the challenges in the public right-of-way faced by persons with disabilities
Identify best practices for the design of accessible pedestrian facilities for accessibility
Intended Audience:
State and local highway engineers, consulting highway design engineers, road/street supervisors, construction & maintenance personnel, and others responsible for regulatory compliance and management of liability risk will find the workshop beneficial
Pre-Requisites:
None
Credits:
6 PDH, 6 Technical CPWM contact hours
Instructor:
Ted Green, P.E., New Jersey Local Technical Assistance Program (NJ LTAP).
Sponsor:
None
Withdrawal Policy: In the event that you are unable to attend a program for any reason, please note you must submit your withdrawal in writing at least 72 hours in advance of the start of a program to receive a refund. If am emailed or faxed withdrawal is not received by our department, the full program fee will be charged and is nonrefundable. A phone call asking for withdrawal is not sufficient.
Privacy Policy: The personal information we collect when you register for a program will not be disclosed to any outside parties. We use personal information for purposes of administering our business activities and providing customer service. We may also use the information we collect to notify you about important services and offerings we think you will find valuable. We are not responsible for the practices employed by websites linked to or from our website or the information or content contained therein.