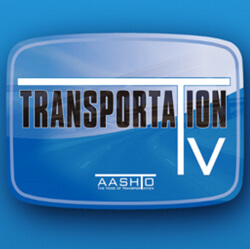 From the Director: Transportation TV
Have you checked out AASHTO's Transportation TV yet? The concept behind it is the regular tracking of transportation related news across the United States, providing news updates and highlighting people "making headlines in the field of transportation". Transportation TV is a convenient source for AASHTO Congressional Briefings, event coverage, interviews, and transportation impact news features. One of the most recent videos features the Traffic Incident Management (TIM) Training that has been deployed around the country- which has now reached more than 200,000 participants. At a recent press conference at USDOT headquarters in Washington, DC, Deputy Federal Highway Administrator David Kim helped acknowledge the 200,000 trained milestone. Our next New Jersey Local Technical Assistance Program newsletter will cover how our state has been involved in the TIM training deployment. You can also find AASHTO's Transportation TV on YouTube and Twitter.
Using Portable Traffic Monitoring Devices (PTMDs) in Work Zones
Many agencies use intelligent transportation system (ITS) devices to monitor traffic flow and detect disruptions on transportation networks. These devices can measure average speed, occupancy, and travel time, which can be used to determine performance of the system and provide traveler information. In situations like work zones that are temporary and may disrupt regular ITS devices, a portable traffic monitoring device (PTMD) can provide valuable monitoring capabilities. Practitioners can use PTMDs to monitor operating speeds inside a work zone and the speed and traffic volume on alternate routes. The data can be used to identify traffic disruptions, such as crashes and queues forming at work zones, estimate delays through the work zone and on alternate routes, assess the need for intervention, and inform motorists.
What is a Portable Traffic Monitoring Device?
A PTMD is an easy-to-use, stand-alone device that uses radar or microwave detection to collect traffic-related data and promptly communicate this information in real-time to a central server and website that can be accessed by authorized users. The information can also be automatically conveyed to motorists via a public website or portable changeable message signs/dynamic message signs. Additional features include e-mail and text message alerts to practitioners if certain thresholds are met (e.g., speeds less than a certain number, indicating a queue forming). Practitioners can use this information to alert roadway users, change the traffic control setup, and/or evaluate the data for future lane closures and other work zone decisions. The PTMD data collection equipment can be provided in several ways, such as mounted on a trailer with telescoping poles and solar panels to power the equipment or housed in construction barrels and powered by rechargeable batteries.
Add Your Efforts to the TZD Resource Manager
The National Association of County Engineers (NACE) is a partner on the Toward Zero Deaths (TZD) Steering Committee. Every year, traffic crashes claim the lives of more than 32,000 people in the United States. And despite the efforts of thousands of people working nationwide to make our roadways safer, traffic fatalities are still on the rise. That's why we as a nation need a common zero-based goal. That's why we need your help, and we need it now. Toward Zero Deaths isn't just an ideology, it's a collaborative collection of groups ranging from public health organizations and law enforcement agencies to emergency medical services and occupant protection. These groups, many of which have never worked together, are united under a single goal: Zero. They strive to develop safety culture. We want to get to a place where society sees someone being unsafe as unacceptable. Remember, the sum of all our efforts is Zero. We encourage you to access to the TZD Resource Manager. This database will allow you to see what other states are doing to create safer roads, as well as share your own efforts to promote traffic safety. We invite you to create an account and upload any resources that you have seen to be effective. In coming months, with your help, we will share even more great examples of Toward Zero Deaths at work.
Fostering America's Freight Economy
The freight transportation system in the United States is preparing for a major overhaul. And it comes at a critical time: As noted in the U.S. Department of Transportation's 2015 vision, Beyond Traffic, and further highlighted in USDOT's 2015 draft National Freight Strategic Plan, the population of the United States is forecast to grow by 70 million people by 2045. Over the same period, freight volume is estimated to increase by 45 percent.
Adding to the challenge is the backlog of projects to repair or replace transportation infrastructure across the Nation. When new or expanded infrastructure is needed, the projects face a complex planning process involving differing financial resources, capabilities, and priorities of the public and private sectors.
The importance of the U.S. freight transportation system cannot be overstated. The system forms an interconnected network enabling the movement of food, energy, fabricated goods, and raw materials to keep citizens employed, communities healthy, and the Nation competitive on a global scale. Together, these components make up the freight economy.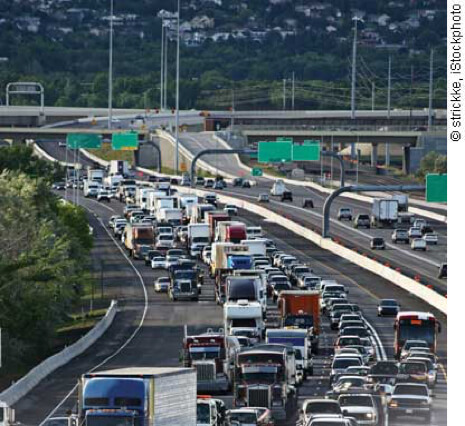 The Fixing America's Surface Transportation (FAST) Act, passed by Congress and signed into law by President Obama in December 2015, authorized 5 years of critically needed funding and key programs to improve the Nation's freight transportation system and U.S. economic competitiveness. The coming changes, fueled by the infusion of Federal funding matched in part by public and private investments, will arrive in the form of capital and operating improvements to the Nation's roads, bridges, ports, rail, and other surface transportation facilities. The projects will be supported by enhanced analysis, multimodal planning, and coordination.
USDOT is committed to strengthening this interdependent system. As stated by Federal Highway Administrator Gregory G. Nadeau, "The success of our freight economy depends on our ability to achieve and preserve the viability of our local, domestic, and international businesses; the existence of a good supply of both jobs and a trained workforce; the health of our natural environment; clean, sustainable, and affordable domestic energy; protection of social and economic mobility; and the ability to leverage resources at the local and State levels to help America compete in global markets."
Find out what's new for Freight and how it will affect you in the FAST Act
Seven Northeast States Claim National Awards for Outstanding Transportation Projects
Seven northeastern states' departments of transportation became the first in 2016 to claim awards in a national competition highlighting excellence in construction projects that improve travel safety, reduce roadway congestion and provide more mobility options.
The Northeast Association of State Transportation Officials, or NASTO, announced the winners at its conference in Quebec City. NASTO's membership includes some Canadian transportation agencies as well as states in the U.S. Northeast, and it is the first of four regional groups naming recipients of this year's "America's Transportation Awards."
Now in its ninth year, that competition – which is sponsored by the American Association of State Highway and Transportation Officials, the AAA motor club and the U.S. Chamber of Commerce – recognizes the best transportation projects in the categories of Quality of Life/Community Development, Best Use of Innovation, and Under Budget.
Transportation projects that were completed in 2015 were eligible to be entered into the competition. All nominations are judged by officials representing diverse industries within the transportation sector.
"America's Transportation Awards showcase the outstanding transportation projects that improve travel and quality of life in the United States," said Paul Trombino, AASHTO's president and director of the Iowa DOT. "Through these awards, we recognize state DOTs for their diligent efforts and highlight how their work helps improve the quality of life and economic prosperity across the country," Trombino added.
A total of 40 state DOTs participated in this year's competition, submitting a record number of 84 award nominations. For just the NASTO regional competition, 10 DOTs entered 21 transportation projects for consideration.
Three state DOTs took awards in the Quality of Life/Community Development category.
The New Jersey DOT won in the large project competition ($200 million and up) for its work to replace the deteriorating bridge along Route 3 over the Passaic River, north of Lyndhurst.
Find out what other states were nationally recognized here!
Integrating Speed Management Within the Three Safety Focus Areas
By Guan Xu, FHWA Office of Safety Technologies, and Abdul Zineddin, FHWA Office of Safety Research and Development
In 2013, there were approximately 33,000 traffic fatalities in the United States. Roadway departure, intersection, and pedestrian and bicycle crashes collectively contribute to 90 percent of the total traffic fatalities nationwide. That's why FHWA has identified Roadway Departure, Intersection, and Pedestrian and Bicycle as the three safety focus areas for implementing the focused approach to improve road safety.
Speeding, defined as exceeding the posted speed limit or driving too fast for conditions, is a contributing factor in about 30 percent of all fatalities, resulting in nearly 10,000 deaths each year. The percentage of speeding-related traffic deaths has remained largely consistent for many years. Within the FHWA Safety Focus Areas, nearly 40 percent of roadway departure fatal crashes and 20 percent of intersection fatal crashes are speeding related. Although the percentage of pedestrian fatalities that are speeding related is low, travel speed at impact greatly increases the severity of pedestrian crashes. For impact speeds below 25 mph, it is most likely that pedestrian injuries will be slight, but at 45 mph or higher, injuries are likely to be fatal. Integrating a speed management component into each of the three focus areas is essential to reducing fatalities and achieving safety goals.
To assist State and local agencies with integrating speed management into their safety policies, plans, and practices to reduce speeding-related crashes as well as to lessen the number of overall roadway departure, intersection, and pedestrian and bicycle crashes, the FHWA office of Safety has recently developed a report that provides speed management strategies for the three safety focus programs. The strategies were developed based on the findings from the investigation of current practices for speed management at State and local levels and through an evaluation of the role of speeding in crashes and safety-critical events. The report resulting from this study provides information on national speeding-related crash trends, promotes a speeding-related crash data analysis approach, and recommends strategies and countermeasures for integrating speed management into an agency's overall policies as well as its roadway departure, intersection, and pedestrian/bicyclist safety programs. State and local agencies should find the information in the report helpful for integrating speed management within the three safety focus areas to reduce crashes.
In addition, to encourage States and local governments to integrate speed management into the safety focus areas, an NHI course has been developed and is currently being piloted. This course provides instruction and facilitated discussion regarding speed management principles and their applications in these focus areas. This course is designed to:
Assist participants in identifying the speeding problem as it relates to the three focus areas of intersections, roadway departure, and pedestrians and bicyclist safety; setting appropriate speed limits; and developing speed management action plans.
Teach engineering strategies that are effective in reducing speeding-related roadway fatalities occurring within the three safety areas.
The final report, Integrating Speed Management within Roadway Departure, Intersections, and Pedestrian and Bicyclist Safety Focus Areas, is posted on FHWA Speed Management website. The course NHI course will be available beginning in the summer of 2016.
USDOT Launches Build America Bureau to Promote Transportation Infrastructure
The Build America Bureau (the "Bureau") is responsible for driving transportation infrastructure development projects in the United States. The Bureau streamlines credit opportunities and grants and provides access to the credit and grant programs with more speed and transparency, while also providing technical assistance and encouraging innovative best practices in project planning, financing, delivery, and monitoring. To achieve this vision, the Bureau draws upon the full resources of U.S. DOT to best utilize the expertise of all the modes within the Department while promoting a culture of innovation and customer service.
The Bureau builds upon the foundation established by the Build America Transportation Investment Center (the "BATIC"). The BATIC which has served as the single point of contact and coordination for states, municipalities and project sponsors looking to utilize federal transportation expertise, apply for federal transportation credit programs and explore ways to access private capital in public private partnerships.
The Bureau combines the BATIC, TIFIA and RRIF loan programs, Private Activity Bonds (PABs), and the new $800 million FASTLANE grant program all under one roof within the Office of the Undersecretary for Transportation Policy.
Find out more about the exciting new innovations that are part of the Build America Bureau here!
ARTBA Releases Template Designed to aid Bridge Contractors in Developing a Fall Protection Plan
The American Road and Transportation Builders Association has released this template, intending to aid bridge contractors in developing an overall fall protection plan that includes use of conventional fall protection systems (guardrails, personal fall arrest, personal fall restraint, safety nets, and/r work positioning devices). Such an overall plan can then be adapted for specific work sites. The written plan tells how to control each fall hazard. It lists the fall protection measures to be used, how they are to be used, and who is responsible for supervision and training.
Climbing the Ladders of Opportunity
By Danielle Coles
The American Dream promises that no matter who you are or where you are from, if you work hard and follow the rules, you should be able to secure a good job, support a family, and find a niche in your community. It promises that there are no limits to success, and that humble beginnings can develop into extraordinary endings. However, for many socially and economically disadvantaged individuals, the American Dream is not always achievable. Limited access to job opportunities, quality education, and healthy food; lack of adequate living wages and affordable housing; unstable home environments; and financial illiteracy can all serve as barriers to economic mobility.
Since 2009, the Obama Administration has made several historic investments to create ladders of opportunity and help all Americans climb the rungs to a better future. The Administration also charged key Federal agencies with developing innovative initiatives to rebuild sustainable communities and connect people with jobs and other essential services.
In 2014, the U.S. Department of Transportation created a Ladders of Opportunity policy initiative. This initiative focuses on enhancing economic opportunities for underserved populations (minorities, low-income populations, persons with disabilities, older adults, and individuals with limited English proficiency) by investing in transportation projects that better connect communities to essential services–such as employment centers, health care, schools, healthy food, and recreation–more safely, reliably, and affordably.
Ladders of Opportunity has three concepts–work, connect, and revitalize–that promote thoughtful workforce development programs assisting disadvantaged people and businesses, a multimodal transportation system that improves connectivity, and revitalized transportation infrastructure that supports equitable business and residential development.
Righting the Wrongs
Although the public generally regards transportation infrastructure as a positive and progressive addition to the national landscape, for many underserved and disadvantaged communities, transportation can create barriers to economic and social opportunities. Highways offering increased mobility and railroads delivering necessary freight goods have divided some neighborhoods. In addition, uneven sidewalks and steep curbs are difficult for individuals in wheelchairs to navigate, and lack of clear crosswalks and signage force many pedestrians to make dangerous crossing decisions, or take unreasonably extended routes in favor of safety. Likewise, unreliable transit can add countless hours to commute times, taking away from other productive and enjoyable uses of time.
Engineering Controls Database
The National Institute for Occupational Safety and Health (NIOSH) Engineering Control database serves as a central repository of current NIOSH information on engineering control technology. The content of the database is summarized from previously published NIOSH research findings. This research was originally published in a variety of formats – Engineering and Physical Hazard Reports, Workplace Solutions, trade and journal articles. If the data was summarized from an Engineering and Physical Hazard Report, there will be a Report number noted in the summary. If there is a pdf icon next to the number, clicking on the icon will open the original report. If you would like to find additional information on topics contained in the database, you may use NIOSHTIC-2 to search all NIOSH publications.
Contact them at ecd@cdc.gov