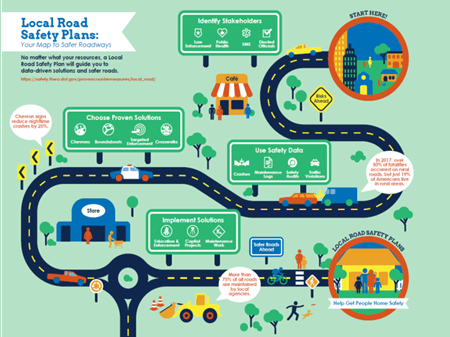 NJLTAP – An Introduction to Local Road Safety Plans for Small Communities (Webinar)
Course Description:
This webinar will introduce attendees to the Local Road Safety Plan initiative (LRSP), a process designed by FHWA to help local public agencies (LPAs) strategically plan for and deploy proven safety countermeasures on their local road systems. Participants will learn what an LRSP is and how small agencies can benefit from implementing one. The session will outline how to develop an LRSP through a seven-step process, as well as how to identify and make use of the various resources available to support LRSP development. This webinar is meant to provide an introduction.
Learning Objectives:  
Participants will be able to identify the value of local road safety plans
Participants will understand the parts of a plan and the process to create one for their agency
Intended Audience: 
Local roadway agencies and consultant engineers, public safety and public works personnel interested in an overview about local road safety plans.
Pre-Requisites:
None
Credits:
1 PDH, 1 Technical CPWM contact hours
Presenter:
Matthew Enders, P.E., Washington State Department of Transportation, Washington LTAP
Sponsor:
This workshop is sponsored by the Federal Highway Administration and New Jersey Department of Transportation through the New Jersey Local Technical Assistance Program.
Withdrawal Policy: In the event that you are unable to attend a program for any reason, please note you must submit your withdrawal in writing at least 72 hours in advance of the start of a program to receive a refund. If am emailed or faxed withdrawal is not received by our department, the full program fee will be charged and is nonrefundable. A phone call asking for withdrawal is not sufficient.
Privacy Policy: The personal information we collect when you register for a program will not be disclosed to any outside parties. We use personal information for purposes of administering our business activities and providing customer service. We may also use the information we collect to notify you about important services and offerings we think you will find valuable. We are not responsible for the practices employed by websites linked to or from our website or the information or content contained therein.