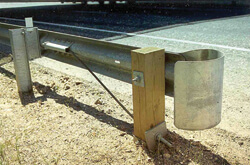 Event
**FULL** NJLTAP – Guide Rail and Median Barrier Inspection (In-person)
November 20

9:30 am–3:00 pm
Course Description:
This 1-day workshop will cover the current guide rail and barrier curb construction details in the NJDOT Standard Roadway Construction Details regarding their proper inspection. The workshop will go through these construction details including brief history on guide rail, warranting fixed objects, guide rail height, clearance from traveled way, rubrail, reduced post spacing at obstructions, guide rail at underground structures, guide rail on bridges, end treatments, roadside recovery area, grading treatment, guide rail treatments at driveways, gore areas, and median guide rail and median concrete barriers. Also, nonvegetative surfaces and substandard guide rail examples will be discussed. The 2019 Standard Specifications for Guide Rail will be briefly covered.
Learning Objectives:
Learn a brief history on guide rail and median barriers and how they save lives if properly constructed
Become very familiar with the guide rail and median barrier construction details to help ensure proper inspection during construction
See several examples of what not to construct in the field and learn common mistakes you should look out for when inspecting guide rail
Intended Audience:
Guide Rail and Median Barrier Construction inspectors and contractors
Pre-Requisites: 
None
Credits: 
5 PDH
Presenter: 
David Bizuga, NJDOT Training Specialist
Sponsor: 
This workshop is sponsored by the Federal Highway Administration and New Jersey Department of Transportation through the New Jersey Local Technical Assistance Program.
University Smoking Policy:
Rutgers University is committed to providing and maintaining a healthy and safe environment for students, employees, guests, and visitors. The use of all tobacco products and tobacco related products, including E-cigarettes, is prohibited on all property that is owned, operated, leased, occupied, or controlled by the University. Therefore, smoking is no longer permitted outside of the CAIT building. Those who violate the new policy will be asked to leave the premises.
Withdrawal Policy: In the event that you are unable to attend a program for any reason, please note you must submit your withdrawal in writing at least 72 hours in advance of the start of a program to receive a refund. If am emailed or faxed withdrawal is not received by our department, the full program fee will be charged and is nonrefundable. A phone call asking for withdrawal is not sufficient.
Privacy Policy: The personal information we collect when you register for a program will not be disclosed to any outside parties. We use personal information for purposes of administering our business activities and providing customer service. We may also use the information we collect to notify you about important services and offerings we think you will find valuable. We are not responsible for the practices employed by websites linked to or from our website or the information or content contained therein.