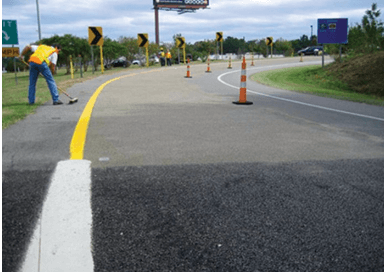 Training
In-Person Event – NJLTAP – Asphalt Roads: Common Maintenance Problems
This course provides relevant information to individuals who have to maintain asphalt pavements. The course material reviews the importance of preventive maintenance to the life of an asphalt pavement. The material will help the student identify common asphalt distress, the cause of the distress, and the appropriate treatments. The latest techniques, materials, and equipment will be reviewed with an emphasis on repairing the asphalt distress properly the first time. Current industry standards to properly repair problems such as cracking and potholes will be presented in detail. The basics of treatments such as seal coats, micro surfacing, and overlays will be presented.
Intended Audience: Individuals who are involved in the planning and execution of maintenance work on asphalt pavements, including: street superintendents, public works directors, foreman, and select crew members.
Rutgers COVID-19 Classroom Protocols
Rutgers University has implemented the following guidelines for all attendees of in-person, indoor workshops taking place in classroom spaces. The following guidelines must be followed in order to attend any in-person course:
BRING YOUR PROOF OF VACCINATION OR NEGATIVE COVID-19 TEST

All workshop attendees will be required to show proof they are fully vaccinated against COVID-19 as defined by the CDC or proof of a negative COVID-19 PCR test before entering the classroom space.
Attendees can display proof of vaccination status with a vaccination card (you may present proof on paper or a smartphone) or NJ's Docket App and similar Apps.
Unvaccinated attendees including those with a medical or religious exception to vaccinations must show proof of a negative COVID-19 PCR test taken within 72 hours of the start of the workshop. The test results must clearly show the date and time of the test.

WEAR A FACE MASK

All attendees regardless of vaccination status will be required to wear an appropriate face mask while inside the classroom. Masks must fit snugly, covering the nose and mouth with no gaps. Neck garters and bandanas are not acceptable. 
Any attendee that does not show proof of being fully vaccinated or a negative COVID-19 PCR test, and/or not wearing a face mask will not be permitted to attend the workshop. If there are any changes to the University guidelines prior to the workshop, all attendees will be notified of the changes.
If you are feeling ill the day of the workshop, we kindly ask that you do not attend the workshop. Due to Rutgers strict COVID policies, not all drinking fountains are currently available for use. Please bring your own water as there are no vending machines in the building.
If you are not comfortable with the University's in-person workshop guidelines, please do not register for this workshop.
| | |
| --- | --- |
| Presenters | |
| Fee | This workshop is sponsored by the Federal Highway Administration and New Jersey Department of Transportation through the New Jersey Local Technical Assistance Program. |
| Credits | 4 Technical CPWM Contact Hours - 4 PDHs |
| Registration | |
Withdrawal Policy: In the event that you are unable to attend a program for any reason, please note you must submit your withdrawal in writing at least 72 hours in advance of the start of a program to receive a refund. If am emailed or faxed withdrawal is not received by our department, the full program fee will be charged and is nonrefundable. A phone call asking for withdrawal is not sufficient.
Privacy Policy: The personal information we collect when you register for a program will not be disclosed to any outside parties. We use personal information for purposes of administering our business activities and providing customer service. We may also use the information we collect to notify you about important services and offerings we think you will find valuable. We are not responsible for the practices employed by websites linked to or from our website or the information or content contained therein.