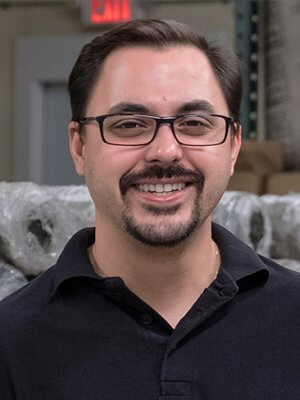 CAIT Staff
Edwin Haas
Senior Laboratory Engineer
, Pavement Resource Program, CAIT
Rutgers University
848-445-9168
edhaas@rutgers.edu
CAIT, Rutgers University
100 Brett Rd
Piscataway, NJ 08854-8058
---
Edwin Haas III is a senior laboratory engineer in the Rutgers Asphalt Pavement Laboratory lab at CAIT. He is responsible for all asphalt mixture performance testing.
Ed has been with the pavement lab since January 2009, while he was still an undergraduate civil engineering student. In short order, he earned his M.S. is civil engineering. During his master's studies he concentrated on tire/pavement noise interaction using onboard sound intensity method (OBSI) technology. Now pursuing his Ph.D., he is working on asphalt materials as his primary concentration.
Ed was recognized by the Transportation Research Board (TRB) during his master's OBSI noise research and asked to join as an invited member of the TRB subcommittee focusing on reducing transportation-related noise and vibration.
He has diligently worked to expand the asphalt lab's research potential, introducing the following tests to its repertoire: semi-circular bend (SCB Flexibility Index), low temperature semi-circular bend, IDEAL-CT, and direct compact tension performance testing. He continually stays on the forefront of asphalt testing practices and asphalt material properties research. Ed describes his ultimate professional pursuit to be to "deliver better roadways to the public."
As an integral part of the lab-team efforts, he was instrumental in obtaining its two most recent AASHTO re:source accreditations (formerly ARML). Accredited laboratories undergo rigorous on-site, third-party evaluations. During these assessments, each test method is demonstrated in its entirety by the lab's technical staff, and the testing apparatus is evaluated. The assessment also includes a thorough review of the lab's quality management system, including records of technicians' training and competency as well as equipment calibration and check records.