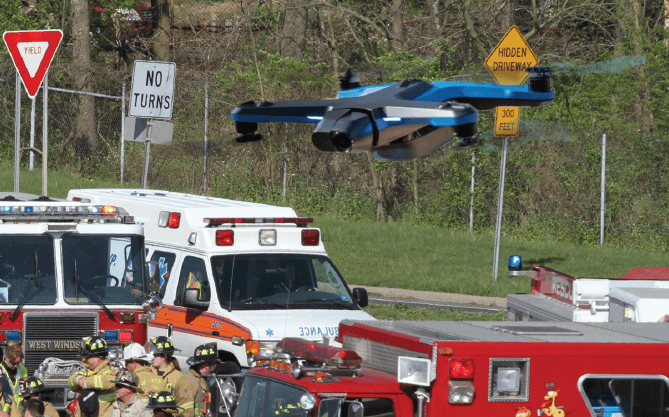 Event
Emergency Responder Transportation Safety Research Summit, 2023
         November 1st — 12 to 5pm   |   November 2nd — 8am to 12 noon
Hosted by TRB's Joint-Subcommittee on Emergency Response AMR00(1) and Rutgers University's Center for Advanced Infrastructure and Transportation (CAIT), this two-day conference will bring together leading experts in the field of transportation safety to discuss the latest research and best practices for emergency responders.
From firefighters and paramedics to police officers and tow operators, all emergency responders are welcome to attend and learn from the best in the business. The conference will cover a wide range of pressing topics in the field — and provide an opportunity for professionals to hear from experts in the field and participate in interactive workshops and discussions.
To fully mobilize this subcommittee beyond the limits imposed by the pandemic, organizations like yours are critical partners and participants. Problem statements abound in emergency response as it relates to transportation incidents from crashes to other major emergencies. While your organization may not currently have members among the 13,000 people that attend the TRB Annual Meeting, your voice and participation in this subcommittee is a new and important avenue to elevate the priorities related to safety and efficacy of emergency response to new levels. So mark your calendars and register below for this conference on emergency responder transportation safety! You won't want to miss this opportunity to learn from the best and help make a difference in the lives of emergency responders everywhere.
Agenda
Day 1
12:00 – 1:00 pm     Sign-in and refreshments
1:00 – 1:30 pm       Opening Remarks and Introduction of TRB Subcommittee
1:30 – 2:00 pm       Introduction to the Transportation Research Board (TRB)
What resources does TRB offer to responder agencies?
How to become involved
2:00 – 3:30 pm       FHWA Traffic Incident Management (TIM) Research
3:30 – 4:45 pm       Incident Management Tools and Vehicle Demonstrations
4:45 – 5:30 pm       Emergency Vehicle Lighting Research
5:30 pm                     Program adjourns, light reception (time, TBD)
Day 2
 8:00 – 8:30 am      Sign-in and breakfast
8:30 – 9:00 am       AutoReturn Software Demonstration
9:00 – 10:30 am     Incident Response Research Highlight Projects
NYDOT
NJDOT
ERSI (CVVFA)
VITTI
10:30 – 11:00 am    Break
11:00 – 12:00 pm    What is Keeping You Up at Night that Deserves Research Investment?
This will be a facilitated, interactive idea-generating discussion.
12:00 – 1:00 pm      Student Poster Presentations and Lunch
1:00 pm                       Adjourn
About TRB & the Subcommittee
In an unprecedented move, the Transportation Research Board (TRB) established a subcommittee specifically focused on emergency response issues. TRB is a branch of the National Academies of Sciences, Engineering, and Medicine, which was chartered by Congress in 1863 to provide expert guidance to help shape policy and provoke research into complex problems that are significant opportunities to advance science and policy that improves society. TRB subcommittees propose research ideas, share research findings, sponsor special events, and lead national independent discussions on critical issues that are action oriented. Hundreds of federally funded projects and other research occur as a result of TRB-generated processes and meetings.
Additional Information

Some hotels local to Rutgers:

Hyatt Regency New Brunswick

2 Albany St, New Brunswick, NJ 08901
+1 732 873 1234

The Heldrich Hotel & Conference Center

Registration

Sponsors / Partners
Withdrawal Policy: In the event that you are unable to attend a program for any reason, please note you must submit your withdrawal in writing at least 72 hours in advance of the start of a program to receive a refund. If am emailed or faxed withdrawal is not received by our department, the full program fee will be charged and is nonrefundable. A phone call asking for withdrawal is not sufficient.
Privacy Policy: The personal information we collect when you register for a program will not be disclosed to any outside parties. We use personal information for purposes of administering our business activities and providing customer service. We may also use the information we collect to notify you about important services and offerings we think you will find valuable. We are not responsible for the practices employed by websites linked to or from our website or the information or content contained therein.