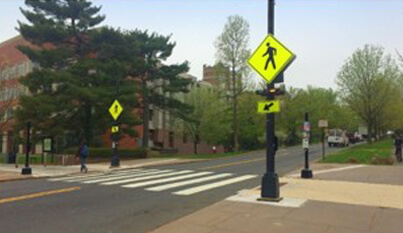 Training
*Postponed* NJLTAP – Traffic Signs and Pavement Markings
This course has been postponed until further notice.
This course reviews the basic regulations and engineering guidelines for the installation of pavement markings and properly establishing and posting regulatory, warning, and guide signs. It presents examples of improper signing so participants can better understand the basic concepts and principles associated with signs and supports, along with sign management techniques. (Note: The course does not cover work zone or temporary traffic control signing)
Intended Audience: Individuals who are making decisions regarding what signs to install and where, and those actually installing the signs, including: engineers, public works employees, and street superintendents. This course is not geared towards law enforcement
Presenters

George Fallat, P.E.

Fee

FREE, but pre-registration required

*** NOTE, Continental breakfast and lunch are not included ***

Credits

DLGS-NJLTAP-50 – CPWM, technical (4.0 contact hours), government (2.0 contact hours) - 6PDH

Registration
Withdrawal Policy: In the event that you are unable to attend a program for any reason, please note you must submit your withdrawal in writing at least 72 hours in advance of the start of a program to receive a refund. If am emailed or faxed withdrawal is not received by our department, the full program fee will be charged and is nonrefundable. A phone call asking for withdrawal is not sufficient.
Privacy Policy: The personal information we collect when you register for a program will not be disclosed to any outside parties. We use personal information for purposes of administering our business activities and providing customer service. We may also use the information we collect to notify you about important services and offerings we think you will find valuable. We are not responsible for the practices employed by websites linked to or from our website or the information or content contained therein.