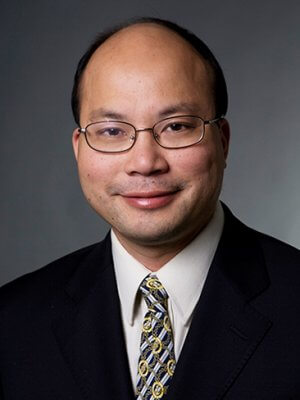 Affiliated Faculty
Qizhong (George) Guo, Ph.D.
Professor
, Civil and Environmental Engineering
Rutgers University
848-445-2983
qguo@rutgers.edu
CoRE Building, Rutgers University
96 Freelinghuysen Rd
Piscataway, NJ 08854-8018
---
Qizhong (George) Guo, Ph.D., has expertise in hydraulics, hydrology, water quality, and water resources, and environmental engineering.
Guo has lead and conducted research on stormwater BMPs for flood control, water quality improvement, and groundwater recharge; estuarine and coastal wetlands circulation; toxic metal leaching from cementitious materials; sewer sediment flushing; watershed and water quality modeling; water treatment and distribution modeling; water environment restoration; hydropower harvesting; water infrastructure retrofit; and more.
His research has been supported by numerous government agencies including the U.S. Environmental Protection Agency, National Oceanographic and Atmospheric Administration, U.S. Department of Energy, National Science Foundation; New Jersey Department of Environmental Protection, New Jersey Department of Transportation.
Guo has taught six graduate courses (Green Infrastructure for Water Management, Advanced Hydrology, Sediment Transport, Coastal Engineering, Analysis of Receiving Water Quality, Thermal Effects on Receiving Waters) and three undergraduate courses (Fluid Mechanics, Design of Environmental Engineering Facilities, Elements of Environmental Engineering). He also has supervised thesis research and independent study of numerous undergraduate students, doctoral and masters graduate students, and post-doctoral trainees.
Guo has served on technical advisory and professional society committees including American Society of Civil Engineers' Technical Task Committee (Chair), Water Environment Research Foundation's Project Steering Committee, U.S. Environmental Protection Agency's Grant Proposal Review Panel, New Jersey Corporation for Advanced Technology's Verification Report Review Panel, NJDEP and DRBC's Technical Advisory Committees for various inland and coastal watersheds, among others.
He received his Ph.D. and M.S. degrees from University of Minnesota, and B.E. degree from Tianjin University (China). He is a licensed professional engineer, and a diplomate of the American Academy of Water Resources Engineers.