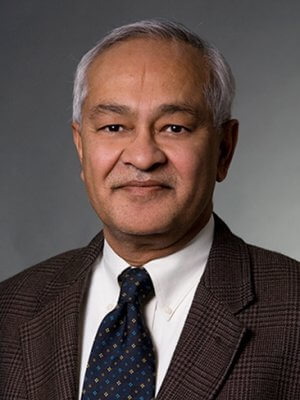 Affiliated Faculty
Permumalsamy (Bala) Balaguru, Ph.D.
Professor
, Civil and Environmental Engineering
Rutgers University
848-445-2877
balaguru@soe.rutgers.edu
Rutgers School of Engineering, CEE
500 Bartholomew Rd
Richard Weeks Hall of Engineering
Piscataway, NJ 08854
USA
---
P.N. Balaguru, Ph.D., is a distinguished professor of civil engineering at Rutgers. He served as graduate director for six years and undergraduate director for 15 years and has directed 30 Ph.D. and M.S. candidates' dissertations. Prior to joining Rutgers, he served for four years as a program director for Infrastructure Materials and Structural Mechanics at the National Science Foundation.
Some of his major research accomplishments include: development of fireproof high-strength composites, high-temperature and graffiti-resistant coating, a new polymeric fiber for use in concrete, lightweight and high-performance fiber-reinforced concrete, mathematical models for fatigue analysis of reinforced and prestressed concrete structures, analysis of ferrocement, and high-strength composite skins and retrofitted structures.
His research has been sponsored by the National Science Foundation, Office of the Scientific Research AFSOR, Federal Aviation Administration, USDOT, NJDOT, Rhode Island DOT, State Highway Officials of Maryland, New Jersey Turnpike Authority, New England Transportation Consortium, and a number of corporations such as Dupont, 3M, Allied Signal, FMC, St. Gobain, Bechtel, ICL, and Owens Corning.
Balaguru is active in a number of professional societies including ASCE, American Concrete Institute (ACI), Society for Advancement of Materials and Process Engineering, and the Transportation Research Board. He served as chairman of two ACI technical committees and is the current chairman of Committee on Fiber Reinforced Concrete.
Balaguru has authored two books and edited several others. His publications include more than 250 journal papers and he has made more than 250 presentations at conferences all over the world. These presentations include a number of plenary and keynote lectures.
He was named Best Teacher of the Year three times by ASCE (1982, 1993, 2012), is a fellow of American Concrete Institute, and received an award in recognition of longstanding contributions from the International Ferrocement Institute.