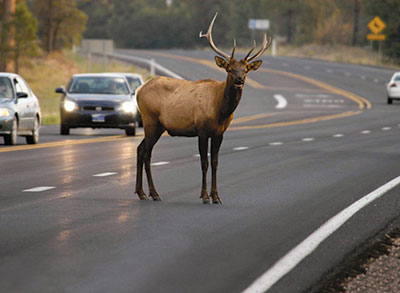 Road ecology: Are we taking the right turns?
October 18, 2022

10:30 am–12:00 pm
Road ecology has made substantial advances over the last few decades. Our knowledge has increased and mitigation measures to reduce the impacts of roads and traffic on wildlife are now widespread and implemented regularly. In many cases, the mitigation measures address human safety through reducing collisions with large mammals, provide safe crossing opportunities for wildlife, and it can even make economic sense to implement these mitigation measures. These successes may be reason to celebrate. However, it may also be time for us to think about whether we are taking the right turns.
What are the effects of roads and traffic that we are mitigating? Are we forgetting things? What do we need to do to get mitigation implemented along road sections that are a concern to biological conservation but that are not a major safety concern? Are the locations we mitigate the correct locations and are they consistent with our objectives? What are the biases in our processes? Can we improve on the design of the mitigation measures to make them more effective? Can we be smarter and optimize the effectiveness of mitigation measures? Can we quantify what is needed to achieve our objectives?
| | |
| --- | --- |
| Presenters | Dr. Marcel Huijser is a research ecologist with 30 years of experience. Specializing in road ecology since 1995, he has conducted research in Europe, North America, South America and Asia. His focus is on the ecological impacts of transportation infrastructure as well as mitigation measures aimed at reducing these impacts. Most of his research relates to reducing large mammal-vehicle collisions, providing safe crossing opportunities for wildlife, and cost-benefit analyses regarding the implementation of mitigation measures. While he is originally from The Netherlands, he has been in Montana since 2002 where he works for the Western Transportation Institute at Montana State University. |
| Credits | 1 DCA CPWM Technical Credit CEU |
| Registration | |
Withdrawal Policy: In the event that you are unable to attend a program for any reason, please note you must submit your withdrawal in writing at least 72 hours in advance of the start of a program to receive a refund. If am emailed or faxed withdrawal is not received by our department, the full program fee will be charged and is nonrefundable. A phone call asking for withdrawal is not sufficient.
Privacy Policy: The personal information we collect when you register for a program will not be disclosed to any outside parties. We use personal information for purposes of administering our business activities and providing customer service. We may also use the information we collect to notify you about important services and offerings we think you will find valuable. We are not responsible for the practices employed by websites linked to or from our website or the information or content contained therein.