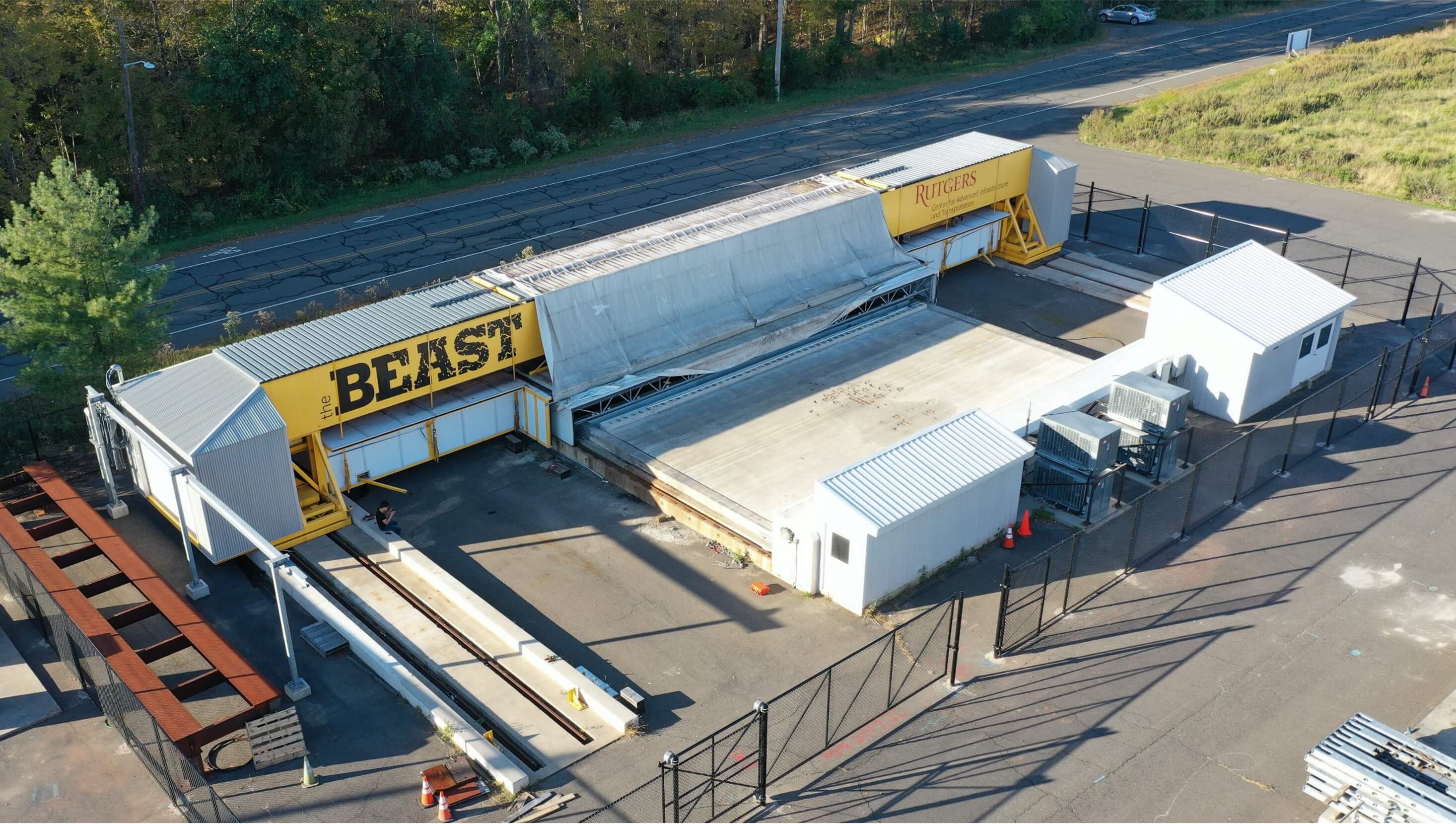 Event
CAIT Seminar Series: BEAST Lab Accelerated Testing of Full-Scale Bridge with UHPC and LMC Overlays
January 19

12:00 pm–1:00 pm
UHPC and LMC overlays are being evaluated at Rutgers' state-of-the-art Bridge Evaluation and Accelerated Structural Testing (BEAST®) facility, where a full-scale bridge (50 ft. simply-supported span) is being subjected to simulated highway truck traffic and environmental loading. Data is recorded with a wide array of sensors and through periodic surveys using NDE technologies.
The specimen was subjected to over 3-million passes of rolling load, 100 freeze-thaw cycles, and over 3000 gallons of salt brine. As a result of these inputs, the deck deteriorated to a state that warranted the installation of overlays. Hydro-demolition was first performed to remove the top 2-3 inches of concrete as well as any unsound concrete. Both (ultra-high performance concrete) UHPC and latex-modified concrete (LMC) overlays were installed next to each other on half of the bridge width, thereby permitting comparison of the two chosen overlay types.
The results from this experiment will help establish the nature and progression of bridge deck deterioration when these types of overlays are used, and even provide quantitative measure of the overlays' ability to perform (e.g.; reduce chloride ingress, provide structural capacity, maintain bond, provide smooth riding surface, etc.).
This webinar will provide an update on the overall project and details of the overlay construction.
| | |
| --- | --- |
| Presenters | Dr. John Braley, Research Associate, Rutgers CAIT |
| Fee | Free |
| Credits | 1 PDH |
| Registration | |
Withdrawal Policy: In the event that you are unable to attend a program for any reason, please note you must submit your withdrawal in writing at least 72 hours in advance of the start of a program to receive a refund. If am emailed or faxed withdrawal is not received by our department, the full program fee will be charged and is nonrefundable. A phone call asking for withdrawal is not sufficient.
Privacy Policy: The personal information we collect when you register for a program will not be disclosed to any outside parties. We use personal information for purposes of administering our business activities and providing customer service. We may also use the information we collect to notify you about important services and offerings we think you will find valuable. We are not responsible for the practices employed by websites linked to or from our website or the information or content contained therein.