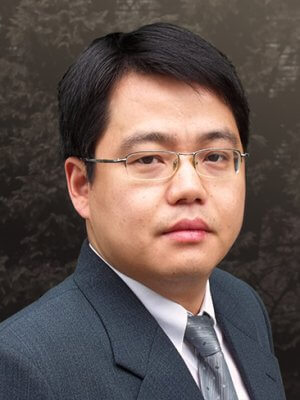 Affiliated Faculty
Hao Wang, Ph.D.
Associate Professor
, Civil and Environmental Engineering
Rutgers University
848-445-2874
hwang.cee@rutgers.edu
Rutgers Civil and Environmental Engineering
500 Bartholomew Rd
Richard Weeks Hall, Ste 420
Piscataway, NJ 08854
USA
---
Dr. Hao Wang is an associate professor of civil and environmental engineering at Rutgers. Broadly, his research field is sustainable and resilient built environments.
Wang's research has been sponsored by a number of federal, state, and local transportation agencies. His most recent research focuses on:
multi-scale modeling and characterization of pavement material and development of multifunctional infrastructure material
vehicle-pavement-environment interaction for long-lasting and safe pavement in highway and airfield applications
life-cycle analysis and assessment
infrastructure management systems
Wang's recent article about how keeping roads in good condition can reduce greenhouse emissions was published in the International Journal of Sustainable Transportation and was widely covered in the general media and publications such as Popular Science and Anthropocene. Another of his environmentally focused projects developed a system that would allow roadways to generate power by harnessing the kinetic energy of vehicles.
Wang has authored or coauthored more than 100 journal and conference publications on pavement engineering and infrastructure materials research. He is the associate editor of the Journal of Transportation Engineering (Part B: Pavement) published by ASCE, and an editorial board member of the Journal of Testing and Evaluation published by ASTM. He also has served on a number of ASCE and TRB technical committees.
The ASCE New Jersey Chapter named Wang "Educator of the Year" in 2019. Previously, Wang received an Eisenhower Graduate Fellowship from FHWA and was the first-prize winner in the Federal Aviation Administration's Airport Operation and Maintenance Design Challenge. In 2014 he received the AASHTO High-Value Research Award for his research that was sponsored by South Dakota DOT.